David Pevsner never intended to be a Twitter sensation, but what's a hung silver daddy to do if his artful, nude photos and imaginative videos capture the Twitter alt imagination?
"When the pandemic hit, I was like, 'You know what, the voices you hear that say don't do this?'" Pevsner says. "'The further away from people you are, the less you hear them.'"
So Pevsner began uploading content during lockdown, quickly finding a niche as a popular content creator. "Some of it is fantasy stuff, some of it is dirty, funny, well-written smut," he says of his output, which is also on Only Fans. "I have a dirty mind, and it's so fun to use it to be creative just like I am with my songs, with my shows. Except now it applies to sex!"
Pevsner talks a lot about sex in his other major project, the solo show Musical Comedy Whore. Telling his story from growing up gay in Illinois to touring the country in musicals and finding a place for himself in the Manhattan of the late '80s, Pevsner frequently steps out of his retelling and into the imagined revue Fancy Boy, singing original songs germane to his life.
Pevsner's songwriting is the real deal. Inspired by his time in the cast of the cult favorite revue When Pigs Fly, he went on to contribute songs to the long-running Naked Boys Singing!. Like so much of his output, his tunes marry a wide-eyed ingenuousness with wry humor and a certain self-awareness. That winning combination may also explain his popularity online.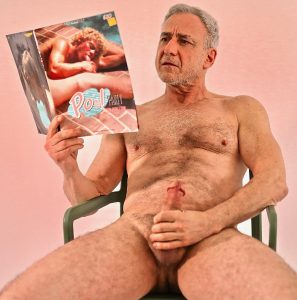 "I've had a dirty mind since I was a kid," Pevsner says of his prodigious output over the last 10 months. "Well, now I'm gleaning from that library from the back of my brain. My inspiration is just how to take a plain old jackoff video and make it something that has a little spark. Just like any good theatre guy, the last thing you want to do is bore people!"
He's also increasingly comfortable with being a mainstream performer—Pevsner has appeared on shows ranging from Silicon Valley to Grey's Anatomy—who also maintains this satisfying side project. "The more I've let go and put up what's in my mind, the more I'm like, 'Fuck you if you have a problem with it,'" he says. Though he has representation now, he has lost agents after posting nude photos to Tumblr, and since then he's only doubled down on his right to express his sexuality. "Would Lena Dunham care that my dick's on the Internet? I don't think so.
"In my mind, it shouldn't be a fucking big deal. I don't have a problem with sex; America has a problem with sex. I don't see any reason why my hard cock on the Internet or me ejaculating in a video should be a big deal."
Be sure to enjoy both of those things from Pevsner on his Twitter and Only Fans accounts! And click here for ways in which to view Musical Comedy Whore!.