Supporting gay-operated businesses is more than a kumbaya moment—if the company is marketed to the LGBTQ+ community, then there's a level of automatic trust there. At least, that's the case with Fort Troff and its extensive line of sex toys.
"We are the customers!" Fort Troff CEO Louis Ceruzzi says with a laugh. "Remember those commercials for Hair Club for Men? '"I'm not only the Hair Club president but I'm also a client.' This is our lives and this is how we come up with these ideas."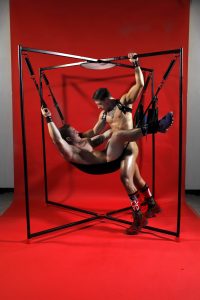 Imagine a straight company ever having the brilliant idea of creating a one-handed topper for a brown bottle. They could never. But that's the kind of winning detail that sets Fort Troff apart, and makes them such an integral part of so many men's sexuality.
"Our customers are very passionate," Ceruzzi says. "They're also a terrific source of ideas. It's not just us sitting around saying, 'Jesus, I wish I had this for this scene or that for that scene.'"
Oh yes: Fort Troff isn't content to splay its wares out for static photo shoots. This is a site that fucks. Vividly, in the case of their marketing campaigns. The immediately recognizable ads have their genesis in a surprising place. Ralph Lauren.
"Once upon a time I was a buyer for Macy's, for the friggin' Ralph Lauren department, and I always looked up to them and their advertising," Ceruzzi says, laughing. "Because it was unmistakable. You knew you were in that world."
That clear identity partly informs Fort Troff's sexy, graphic ads. But beyond that, Ceruzzi points out that "we want the presentation and the environment to look authentic and to look real. We want to show people they can have fun and show the toys in context of play. I think that makes it really more informative because they can see how they can use them." He pauses, then adds, "But it's also eye candy and we all like that!"
Those raunchy marketing materials quickly earned Fort Troff a (well-deserved) reputation as what Ceruzzi calls "the hardcore gay bad boy club." But as the brand has grown and evolved, so too has its approach to its customer base.
"We're really trying to figure out how we can still stay true to the hardcore kinky guy who brought us to the party but not be off-putting to the novice or to the straight guy or to the woman who's interested in our products," Ceruzzi says. "We're doing a lot more of a balance between just showing the products with graphics and motion to illustrate the functioning of the toy as well as still showing it in play. 
"It's two sides of the coin," Ceruzzi acknowledges. "We want to be inclusive, but at the same time we are very proud of our sexuality and we don't feel like we should have to dilute that. We're not going to move away from who we are, which is proudly gay, hardcore, and kinky. That's just who we are, without apology. And that doesn't mean that others aren't welcome, of course they're welcome, but we're a tribe and we've suffered a lot of judgment and prejudice over the years. And the fact that we can be who we are without the filter and without the apology is a celebration!"
"Apple has no policy, 'Your images are too violent.' Oh no, no, bring it! But show a hard dick in a pair of underwear and bam."
And Fort Troff has had plenty of reason to dilute its messaging. After all, Ceruzzi points out, they can't even advertise on hookup sites like Grindr or Scruff because Apple would be upset.
"Violence, we have no limit! We have no filter," he says. "Apple has no policy, 'Your images are too violent.' Oh no, no, bring it! But show a hard dick in a pair of underwear and bam. We're still in a country that was founded by Puritans who were outcasts because they were ridiculously strict and extreme in their religious views. And we're still here today."
But the community remains in the dark about the trials of being a company that is unapologetically hardcore, unaware of the challenges that face them, from credit card processors to a very small pool of advertising opportunities. As Ceruzzi says, "There's no outrage that these companies are doing the right thing, they're not breaking any laws, they're making our toys but they're being stymied every step of the way!"
Perhaps if more people knew that these roadblocks could lead to delays in new products like the sling that Fort Troff has in the works, they might speak up a bit more.
Working with a gay designer in California, Fort Troff will launch an upgraded, portable sling this fall that, once again, pays attention to the details.
"It's little things," Ceruzzi says," but when you're in a sling frame and the sling is moving and creaking, that's distracting. And we have introduced this thing that oh my god, it is so incredibly stable, it's just amazing. And the beauty of it is that it's all been designed with our fuck machine in mind, so you can attach the fuck machine to the frame of the sling."
And that, gentle reader, is why supporting gay-operated businesses is so vital.