Anyone who has ever used a hookup app or gone home with a stranger shares the same fear: That they may have seriously misjudged the other person.
Not that the fear is a deterrent for most—but that thought is always in the back of our minds. Which is one of many reasons why P.J. Vernon's Bath Haus is immediately irresistible. While his older partner Nathan is away on a business trip, recovering addict Oliver heads to a bath house in D.C. His motives are a jumbled mess of lust, frustration, and need—but those are rendered irrelevant as soon as he walks into a private room with a hot Scandinavian named Kristian. Kristian, however, turns out to be more Looking for Mr. Goodbar than Alexander Skarsgård, and by the time Oliver has escaped, he's left with a terrifying bruise across his throat in the shape of Kristian's hand.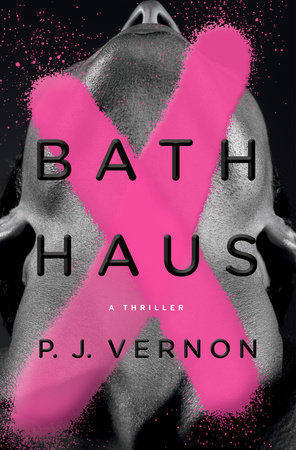 Thus begins Oliver's desperate attempts to minimize the fallout. He lies quickly and efficiently, about everything and to everyone. But as he lies and Nathan doubts, the fault lines in their relationship deepen and widen, revealing fractures they'd successfully papered over with wealth and comfort. As they warily circle one another, outside forces lie in wait to strike while they are weakened—a suspicious cop; Nathan's overbearing mother and smarmy friend; someone from Oliver's shady past.
The delights of Vernon's story are matched only by his ability to weave them into a complex narrative that demands to be read in one long sitting. "Gay novels" are often ghettoized, but Bath Haus easily breaks down misconceptions and avoids easy tropes. Comparisons are inevitable—the author of The Flight Attendant is prominently quoted on the cover and Gone Girl has become the standard to which all other domestic thrillers are held—but Bath Haus manages to satisfy both non-queer readers and the gay men who recognize themselves all too easily in the characters. And Vernon nails the sexiness of the story, both of illicit attractions and of sudden shifts in the routines of longstanding partners. The sex is hot, but there's a darkness to all of the encounters that is rarely portrayed so incisively.
Bath Haus is not just a great thriller—it's a great installment in what is all too short a shelf of books for and by queer readers.