Brogan Reed is dark and rugged, stubbly, hung like a horse with a smooth, chiseled, oiled chest and a nipple piercing. He sits like a king while he has two handsome young men worshipping his cock. And why not? He's "Daddy."
One of them, Spencer Daley, is handsome, blond and tall, with a hairless, pale, well-defined body. The other one is Luke Hudson, a cute, nerdy trans man who is known for amazing sex! Luke is masculine with dark hair, a neat side parting and distinctive tattoos on his chest and back.
Moments later, Spencer is standing up, legs powerfully spread between the couch and the side table, thrusting his giant, cut cock into Luke's mouth. Luke then lowers his cunt onto Brogan's thick dick. Brogan starts power-fucking, repeatedly slamming his perfect dick into Luke's juicy pussy. The sleazy grin on his face tells us he's enjoying every stroke!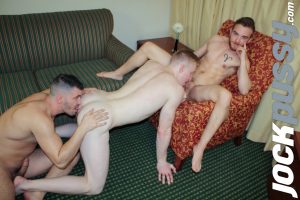 Spencer watches on, eager for his turn to feel Brogan deep inside him. Brogan sits down on the couch, giving Spencer the opportunity to lower himself onto him… simultaneously banging Luke's pussy! It's an incredibly intense experience for Spencer as he grinds and thrusts with alternate movements, gasping and moaning in pleasure. Daddy Brogan really hammers Spencer, lifting his hips for extra thrust!
Brogan, Spencer, and Luke fuck each other's brains out over and over until they're pushed to the edge of cumming. Watch Brogan's "part trick" as he jets out a stream of cum that makes his boys' eyes go wide, making them climax at the sight of the big man's massive load!