Check out the hot release this week celebrating 15 years of Nasty Pig action on JalifStudio.com!
Leo & Sartera
Leo touches himself as he strokes his cock in a dark, dirty, graffiti-covered building. The concrete shelter proves to be a nice cover from the rain—as well as a chance to work out some pent-up sexual energy. Theo finds himself similarly inclined to sneak off into the abandoned building, pleased to discover horny, sexy Leo with his cock out and ready to be worked over…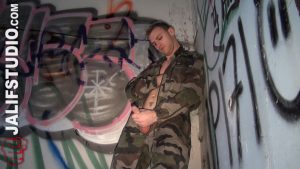 Theo takes out his own cock, giving the fatigue-wearer something to suck on as he continues to stroke his meat. The cute civilian fills Leo's mouth with his shaft, feeling it slide down his throat as Leo gets closer to orgasm.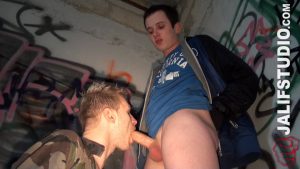 Theo drops to his knees to service the fit, blonde soldier, tasting his delicious pre-cum.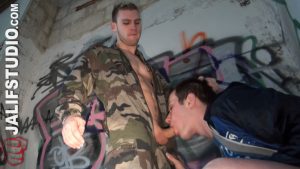 Bending him against the wall, Theo plunges his cock deep into Leo's ass, splitting his cheeks apart as he slams against his prostate. Leo's cock bounces back and forth as Theo nails him hard, forcing out more of his glistening fluid and pushing him to the edge of climax!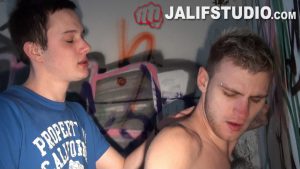 FIND OUT WHERE THEO SHOOTS HIS LOAD AND CHECK OUT THE FULL SEXY VIDEO HERE!