Grandmaster Oaks removed Marcus' clothes, stripping him down until he was bare to his white garments. The see-through fabric revealed his arousal, as well as his lean, athletic body. Oaks proceeded to strip Marcus of his underwear as well, leaving him completely exposed and vulnerable to the older man's designs.
The handsome daddy ordered Marcus to get up on his desk on all fours. The boy did as he was told, feeling a little strange about presenting himself like a prized pony. The apprentice arched his back as instructed, putting his naked body on display for Grandmaster Oaks to enjoy.
The older man explored the boy's chest and stomach, observing the way Marcus trembled in fear. Oaks knew this initiate wasn't afraid of him, but rather of his own desires. Marcus wanted to be touched, to be toyed with, and to be teased. But he wouldn't dare ask for it outright. He needed Oaks to be the one to call the shots–to command him and take him.
Grandmaster Oaks took two fingers and slowly pressed them to Marcus' lips, feeling their soft, pouty fullness before penetrating deep into his mouth. Marcus wasn't sure what to do, but he split his lips and took the older man into his mouth, tasting his fingers on his tongue. It was heaven.
Oaks could see that Marcus needed more than just two fingers inside him, so he ordered Marcus to kneel on the floor. Grandmaster Oaks slowly unbuckled his belt and pulled down his pants. Marcus watched like a hungry puppy waiting for a treat. Oaks paused to observe the intense desire painted on the boy's face. It was beautiful. Absolute perfection. Pushing his hips slightly forward, Oaks brought the head of his manhood to Marcus' lips and watched as the boy welcomed it in.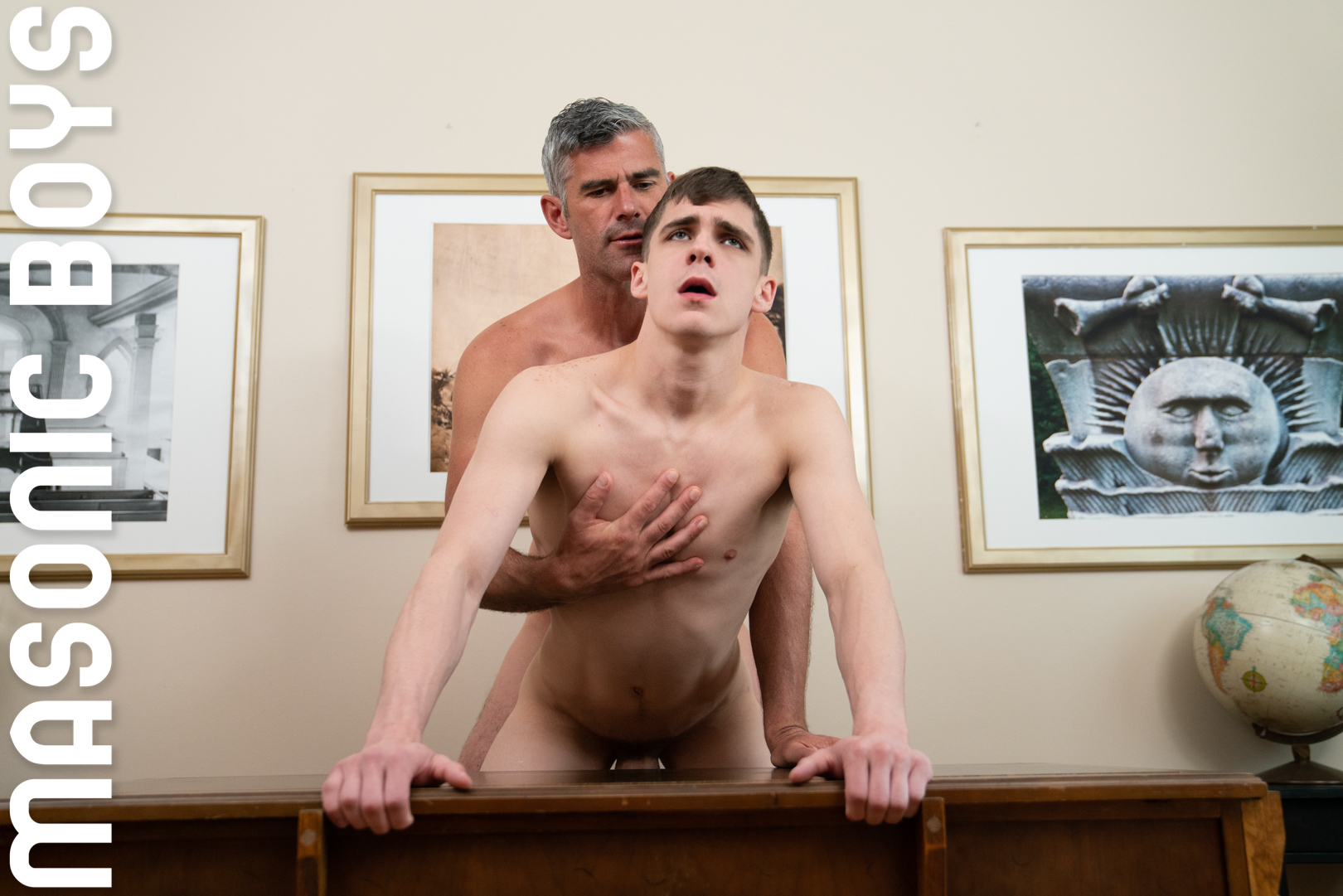 Oaks loved watching Marcus swallow him down. He loved how passionately this boy sucked him and wanted to service him. The Grandmaster knew Marcus would make a good apprentice and a valuable member of the Order, but this leader wasn't going to end his inspection with just a blowjob.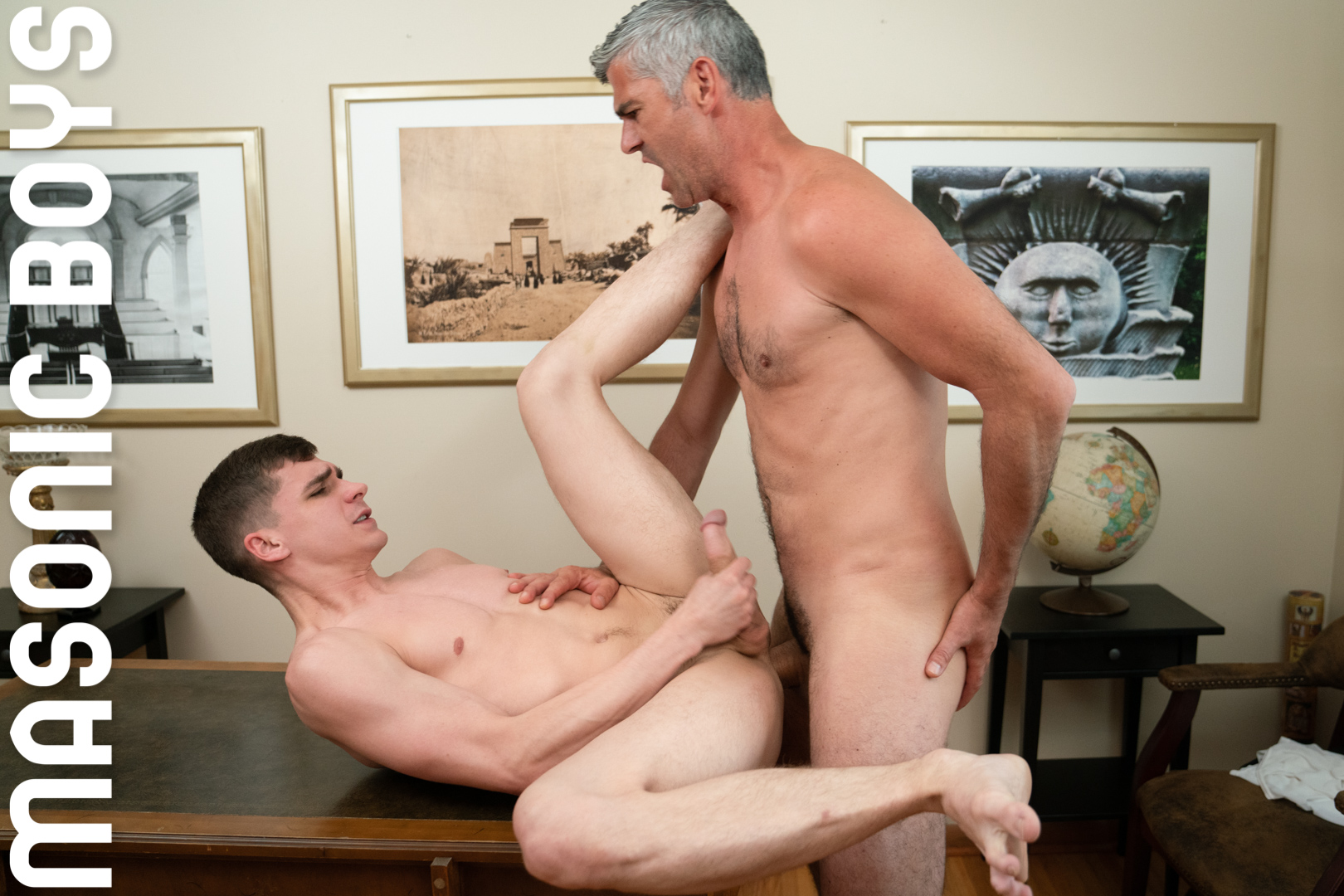 Standing Marcus up, he brought him around to the back of his desk, bending him over onto his elbows on the flat surface. Marcus had only a slight idea of what was to come, having never done this before. He braced himself as Oaks removed his pants and underwear, bringing his swinging meat out. Marcus felt as it pressed up behind him, sneaking in between his two smooth cheeks, trying to pry inside his body.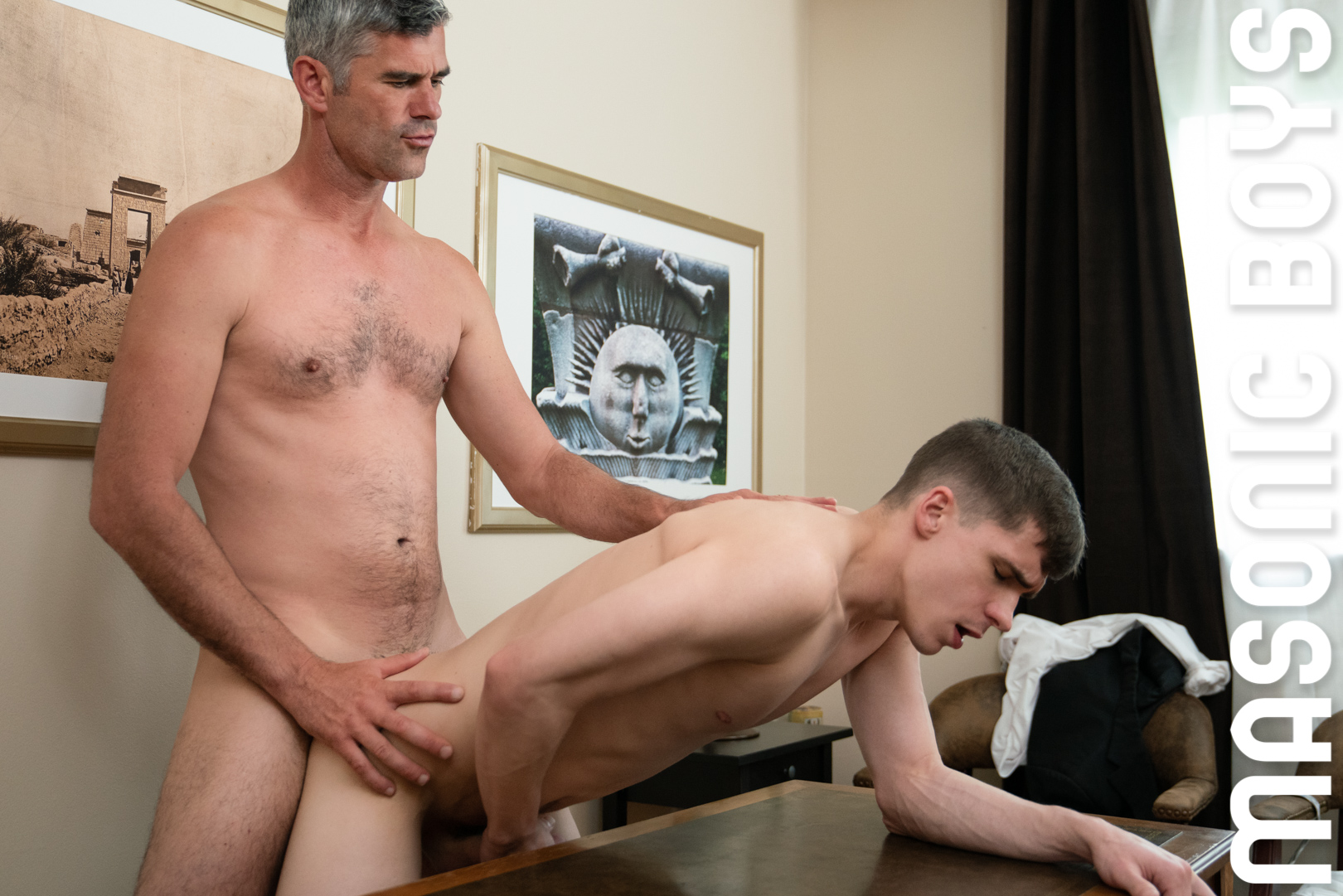 The feeling started with a firm pressure on his hole, like a rod trying to puncture through. The saliva from the sucking gave it just enough slickness to pierce his sphincter, giving him a slight sting and a burn as it moved inside. He winced, trying not to disappoint his leader by showing he could take it. The boy's body shook as he struggled to open up, Grandmaster Oaks whispered encouragingly all the while, "That's it. You can do it…"
Marcus wasn't sure what changed, but suddenly his body seemed ready to receive and the Grandmaster's knob broke through into the boy's hole, prying it apart until the hard shaft was almost completely engulfed in that hot ass. It was epic. Marcus hadn't felt anything like it. It was a deep feeling of submission and satisfaction that he hadn't ever known. He wanted more, so much more, and Oaks was happy to give it to him.